Disability Justice in Classrooms
Apr 20, 2022
by Aqua Stovall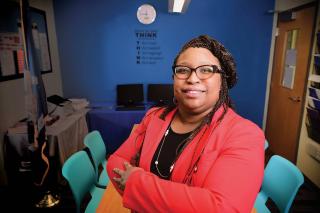 Disability justice has been a passion my whole life. I'd like to talk about one facet crucial to educators, dignity of risk, the tendency of abled caregivers to "overprotect" people with disabilities in ways that can be dehumanizing and deprive them of meaningful learning experiences associated with prudent risk taking. I'll begin with an example: a high school teacher is organizing a senior class trip where the students will play paintball. He does not include the students in the self-contained classroom. When asked why students who are physically able to participate are not included, he responds that he is trying to protect students from harm. While his intentions are good, he is taking away the rights of a group of students to make their own decisions, their dignity of risk. All students invited to the paintball outing will weigh the risks of bruises against the benefits of a field trip with peers and decide if they want to participate. All students who can attend a field trip deserve to be invited. Students will decide if they want to participate by weighing the risks and benefits. When educators remove that choice, they deny students their dignity of risk.

The desire to overprotect seeps into our daily teaching practice. Instructors often predetermine a student's abilities based on perception rather than data, resulting in lowered academic expectations to protect the student from failure which create a self-fulling prophecy of lowered academic achievements.
So what can we do in our daily practice? Learn about disability justice. As educators, we must examine our biases and begin the work of unpacking our assumptions. Our team has put together a list of resources below that make a great jumping off point. In addition, we invite you to join our Cohort, Self-Contained Classrooms through an Equity Lens: Actionable Plans to Maximize Each Child's Potential.

For school leaders, I challenge you to spend time in your self-contained classroom this semester. I hope you will answer the call to action to make sure your self-contained classroom teachers and staff receive equitable resources for professional development, coaching and pay.

To our CMO and state leaders, the time has come to recognize and reward schools for deepening services and resources in self-contained classrooms. When disability justice becomes an objective for school success and rankings, we can all be celebrated and treated with dignity.