Least Dangerous Assumption
May 18, 2022
by Aqua Stovall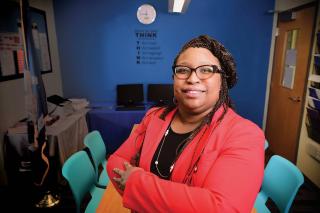 A friend shared some videos from the Invictus Games of world-class athletes: archers using their mouths to draw their bows and, my favorite, rugby players with all the exuberance and physical contact in a scrum with wheelchairs. This got me thinking about possibilities and assumptions.

A pillar of working with students with disabilities is least dangerous assumption, coined in 1984 by Anne Donnellan who wrote," in the absence of conclusive data, educational decisions ought to be based on assumptions that, if incorrect, will have the least dangerous effect on the likelihood that students will be able to function independently as adults." In a time when test scores guide most of our decisions, it is vital that we take a step back; most experts agree that intelligence testing is flawed and particularly inaccurate for people with communication and mobility challenges. Since we know our data may not be accurate, how do we approach educating our students?

I would argue that everyone at IEP meetings should work from the assumption that all students are competent and able to learn; otherwise, our decisions can harm the student's academic and social opportunities and result in fewer choices for them as adults. If a student is not progressing, our first assumption should be that current instructional methods are not working and other methods should be tried rather than concluding the child is incapable of learning.

Particularly for students who are non-speaking, the default is often teaching only an alternate curriculum of life skills. Of course, life skills are important, yet what I have seen is if educators persist with reading instruction, even if the student does not achieve literacy, she may develop a love of stories. Her vocabulary might increase, giving her more understanding of the world around her. Specialized training like SELF's Foundations of Reading Cohort for teachers can help with concrete strategies to increase access for all learners and to create learning environments where all students are celebrated, treated with dignity, and their strengths leveraged to empower authentic and individualized learning.

I hope we can all be inspired by the Invictus Games and apply the foundational belief of least dangerous assumption to our daily practice. By presuming competence, we are improving our students' lives in ways that may be unexpected but are nevertheless valuable.