Summer Self Care for the Mind
Jun 13, 2022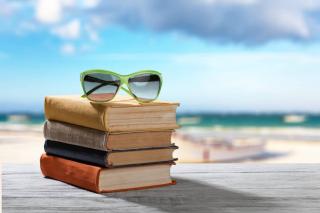 Here is our a list of what SELF's staff is reading for pleasure this summer:
The Talented Ribkins – Ladee Hubbard– A New Orleans author writes a fun and weaving fiction inspired by W. E. B. Du Bois' famous essay ''The Talented Tenth'' and fueled by Ladee Hubbard's marvelously original imagination
Interior Chinatown- Charles Yu- A heartfelt and funny novel that tackles the stereotypes and perceptions of Asian Americans
The Long Way to a Small, Angry Planet- Becky Chambers- First in The Wayfarers series, an interesting perspective on love, identity and humanity through a space adventure. A light and easy read.
Circe- Madeline Miller- Mythology re-told from Circe's point of view.
Parable of the Sower- Octavia E. Butler- Speculative fiction, a dystopian story of Lauren Olamina, a teenage hyperempath who leaves her walled-in community with a vision for a better future. (Butler was the first speculative fiction author to be awarded a McArthur Genius Grant.)
Furies of Calderon (the Codex Alera series)- Jim Butcher- Imagine The Lord of Rings meets Avatar: The Last Airbender and throw in some really scary monsters. This series has beautifully complex characters, male and female. A ripping good yarn.
Enola Holms series- Nancy Springer- Sherlock Holms' young sister solves crimes in London while evading her older brothers. Excellent mysteries and interesting historical tidbits.
Bartimaeus Trilogy- Jonathan Stroud- A young apprentice summons the 5,000 djinni Bartimaeus and a thrilling adventure ensues. Some laugh-out-loud funny moments and the most clever use of footnotes in fiction.
Tiffany Aching series (Audiobook)- Terry Pratchett- If you haven't tried Terry Pratchett yet, this is a lovely introduction. A 9-year old girl must hold off an invasion from a parallel reality. A fantastic reader, funny and suspenseful and appropriate for the whole family.
Born a Crime (Audiobook)- Trevor Noah- Narrated by the author, this autobiography weaves South African politics and culture into the story of his childhood.
Pro-Tip:
Did you know that with your local library card number, you can get free ebooks and audiobooks to stream or download through apps like Hoopla and Libby? A great cost saver for avid readers and listeners! Look at your local library website for the app used in your area.